Over the last couple of years, we as a society have become more accepting of various definitions of beauty. Big, short, tall, and dark – all are beautiful in their own ways. Women today are now more comfortable with themselves and don't shy away from truly being themselves.
From owning their size to no longer being ashamed of their dusky or dark skin tone, Indian women have come a long way. If as a dusky woman, you are looking for saree colour for dark skin tone, we have got you covered.
Gone are the days when dusky women would worry about wearing bright colours and only choose from a small range of saree colours for dark skin tone. With changing times, all that matters is your confidence, and you can conquer the world with a bright smile on your face. If you are still wondering, which saree colour suits for dark skin,
Here Are 6 Saree Colour For Dark Skin That Will Definitely Make You Feel Like A Goddess:
1. Flaming Red Saree Colour For All Skin Tones
Like Audrey Hepburn once said, "There's a shade of red for every woman."; you just need to figure out which red is made for your skin tone. Usually, blood-red, cherry red, and ruby red is the best saree colour for dark skin female.
If you're looking for a red colour saree inspiration, browse through our collection of red sarees that are suitable for all skin tones.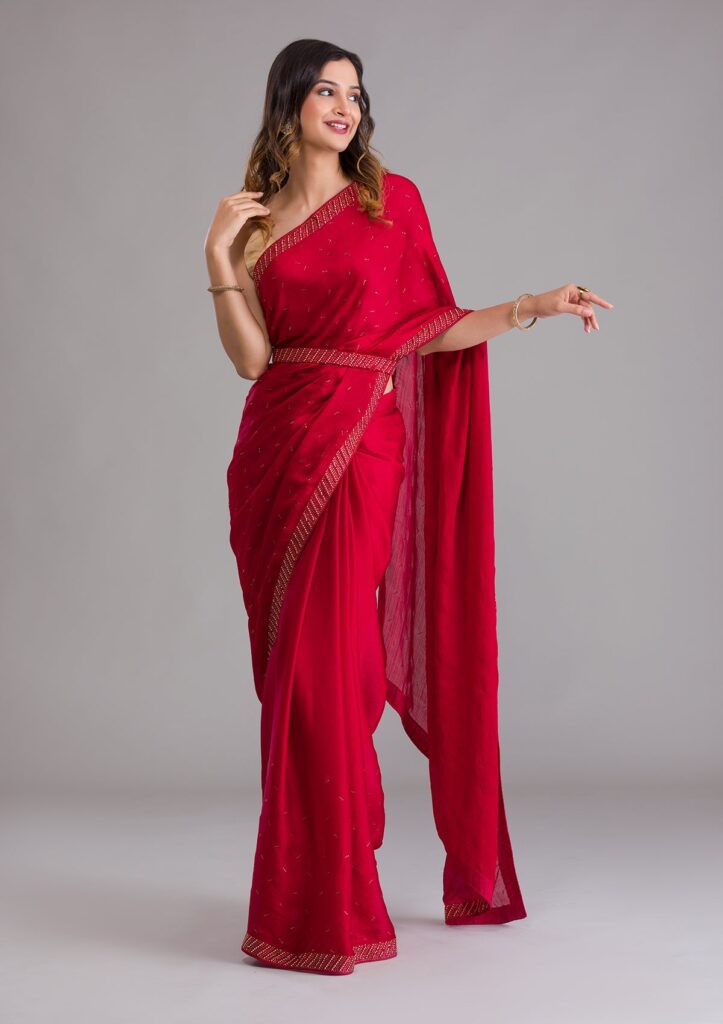 Here's a fashion tip for dark skin brides for your D-day, pick any deep red coloured saree and pair it with subtle makeup, or you can even opt for a matching red lipstick, and you're ready to steal the limelight.
2. All That Glistens Is Gold For Dark Skin
Gold is such a beautiful and royal colour that it elevates your entire style in seconds. You name any designer in the country right now, and there's no one who doesn't have a wide variety of sarees in gold – the perfect saree colour for dark Indian skin female. We have often seen brides in South India donning beautiful golden kanjeevaram silk sarees for their wedding day, and they look terrific in them. But you needn't wait for your wedding day to wear a golden-coloured saree! As a wedding guest or even the bride or groom's sibling, you can rock a golden colour saree for dark skin tone. Anything bright on a dusky tone is sure to make you stand out from the crowd.
So, if you're planning to attend a wedding soon, we suggest you go for a golden look from head to toe. There's nothing more beautiful than a well-put-together golden look.
3. Pretty In Violet – Best Saree Colour For Wheatish Skin
Violet, as a colour, has been making a lot of noise in the fashion scene. It is one of the most beautiful saree colours for dark skin. Also, since winter is coming and there's going to be a lot of velvet at Indian weddings so, if you're someone who has wheatish or dark skin, a violet-coloured saree will fit the bill perfectly for you.
Violet sits between blue and purple, so it eventually falls in between a warm colour tone. We've all personally seen and experienced that warm colours look more charming on dark skin, and there's no denying that. Be inspired by our collection of flaming violet sarees that are sure to make your heart sing.
4. Forever Orange – Saree colour that complement's the dark skin tone
Orange is the new black or what? Well, it is. Orange happens to be one colour that brings out the beauty of dark skin impeccably. The colour also has warm undertones, and as mentioned above, these colours complement the dark skin tone like no other.
So, an orange colour saree wouldn't just boost your confidence but also make you stand out from the crowd. Imagine entering a party wearing a bright orange saree, and all eyes are on you! So it's safe to say that an orange-coloured saree is a good choice for dark skin people.
5. There's Something About Mustard Yellow Colour Saree
Now, this is one colour that fits the bill for all skin tones, and you will never see a dark skin tone person going wrong wearing a mustard yellow-coloured saree. You can either opt for something simple or go for something with a little mirror-work on it since it's trending these days. Mustard yellow as a colour isn't going out of trend anytime soon, so buying a saree in this colour is a great investment that you will not regret. Browse through our Yellow sarees collection for some inspiration.
6. Curiously Magenta – Suggested Colour For Dark Skin Tones
Magenta is a combination of red and violet, and we have already established that these two colours, on their own, complement dark skin tones very well. So, a combination of these two is bound to look stunning on dusky skin tones. Although the colour falls under cool tones but complements dark skin terrifically. So, when it doubt, magenta it out!
A magenta-coloured saree on dark skin will make you look like a goddess, and people can't help but notice you. You can style your saree with gold jewellery to finish off the look with subtle makeup, and you're ready to conquer the world. If you're confused about whether magenta might look a little loud on a dusky skin tone, worry not. We've got you covered with our extensive collection of Magenta-coloured ethnic wear.
So here are the few saree colours that would complement the dark skin colour like a bomb. For more such pieces, stay tuned!
Explore More Articles: Types Of Silk Sarees | Modern Bengali Saree Style | Coorg Style Saree | Saree Petticoat Types | Lehenga Dupatta Style | New Trend Sarees
Frequently Asked Questions On Saree Colour For Dark Skin
Which colour saree is best for dark skin tones?
Earthy and warm colours flatter women with dark skin tones. Think hues of orange, magenta, dark blue, violet and gold. These colours work beautifully to make your complexion pop and your outfit stand out from the rest.
What colours look good on dark skin tones?
All colours look good on dark skin tones. However, there are some that look better than the rest. Along with deep reds, colours like gold, violet, and magenta complement Indian dark skin tones beautifully. Hues of green and pink also look great on dusky-skinned women.
Which colour is suitable for dusky skin?
Deeper reds, magenta, gold, orange, and mustard yellow are some of the colours that complement the Indian dusky skin tone beautifully. These colours accentuate your complexion and features, turning a simple moment into something memorable.