It is often said that clothes make the person. Whether or not you share the same viewpoint, the fact is that being stylish leaves a lasting impression. It's not about what you wear, but how you wear them. These fashion tips are designed to help you find what suits you and give you a style framework you can use no matter the occasion. 
Fashion Style Tips To Go From Meh To Fashionista
Our fashion tips will focus on ethnic or occasion wear that will help you jazz up those festive threads, office, and everyday wear. If you are wondering how to look stylish, these fashion tips will keep you get the basics right.
Here are a few fashion tips that will change how you view yourself and your clothing:
1. How to look stylish even if you are not the ideal weight:
It's easy to assume that you must be model-thin to be fashionable. Nothing can be further from the truth. Of all the fashion tips you might read, you need to remember this. Being stylish has nothing to do with how much you weigh or whether you have an hourglass figure—it has everything to do with your self-confidence.
Wear clothes that flatter you and make you feel comfortable, and you can walk into a room and command the attention of everyone there.
2. Find your strengths:
Everyone has some feature that stands out. Do you have great hair or skin? Are your eyes or shoulders your best feature? We're so conditioned to notice our faults that sometimes, we don't even know when our best features are staring back at us in the mirror.
So here are a few fashion tips to help you figure out your strengths:
Do people regularly compliment you when you wear a particular outfit?
Have you tried wearing different styles and found that you look better in some and not in others?
Have you figured out why?
Spend some time assessing why a particular outfit looks good on you, and you will be able to tap into your strengths when it comes to your personal style. 
3. Wear clothes that flatter your best features:
If you are wondering how to look stylish when your hips are too big or your arms too flabby, refer point #1 again. Looking stylish is all about highlighting your best features and hiding your flaws.
For example, if you look like a bomb in a particular colour, ensure you fill your wardrobe with similar tones. If you look great in halter tops, try and incorporate those even when you wear ethnic wear.
Pair a saree or a lehenga with a crop top, or wear a lehenga skirt with a halter top for an indo-western look.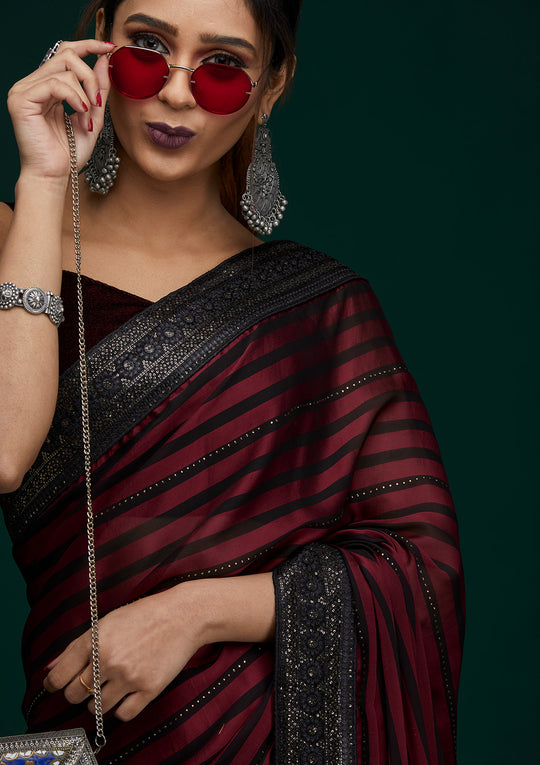 If pants make you look and feel great, incorporate palazzos with your ethnic outfit or a traditional choli with a pantsuit. The best fashion tip on how to be fashionable is to build upon what looks good on you. 
4. Wear clothes that hide your flaws:
Indian ethnic wear is very forgiving. With an abundance of loose skirts and flattering blouse and choli styles, Indian ethnic wear compliments our body types the best. The ethereal saree gives us curves even when we don't have any; the luscious lehenga hides our problem areas while giving us a stunning silhouette; the perfect palazzos look fantastic on most Indian women. If you are wondering how to style your festive wear, look for clothes that flatter your most promising feature while hiding your flaws.
For example, during a wedding or Diwali, you want to be able to enjoy the delicacies set before you without worrying about your food baby showing up. Choose an empire-waisted salwar or a loose-fitted lehenga skirt that hides what you don't want seen.
5. Style the WHOLE ensemble:
Do you know the best-kept secret on how to look stylish? Style yourself from the top of your head, all the way down to your feet. Ensure you wear your hair in a do that complements your outfit and balances the silhouette. Use makeup that compliments and pick jewellery that brings the whole look together.
And perhaps, the most important of all, don't forget about your shoes. Accessories and footwear can elevate your entire look and have to be one of the best fashion tips we can give you.
6. Keep it within the family:
Styling tips for ethnic wear can be rather specific. With occasion wear, the prints, embroidery, and colours bring drama and flair. Here are a few fashion tips to help you style your occasion wear to make sure you look like the diva you can be. Make sure you wear embroidery that compliments each other. If you have floral embroidery on your lehenga skirt, ensure your choli has similar or complementing embroidery motifs or is plain-coloured. Find balance in all that you wear.
Above all else, being stylish is all about a state of mind. You can wear the frumpiest clothes, but you will look stylish as long as you personalize them by playing up your strengths. And wear them with confidence. When you wonder how to be fashionable, remember this. It starts in your mind.
FAQs on Fashion Tips
What are the basic rules of fashion?
The first (and golden) rule of fashion is balance. From the accessories to the outfit itself, ensure everything blends well together. The second rule is that less is always more. Play to the rule of three, where you have only three points of interest in any outfit. Next, don't forget to style your outfit with the right accessories, shoes, and makeup. These can bring the whole look together. And lastly, wear what suits you. Don't follow trends for the sake of it. Make sure you play to your strengths and hide your flaws. 
How can I improve my style?
There are many ways you can improve your style. The first is to try different styles to determine what works for you. Also, always try to make it your own. Wearing a salwar kameez or saree for a wedding? Why not wear it with a jacket or a crop top for a unique look? Lastly, be bold. This is where confidence comes in. Choose unconventional pairings for a bold, stylish look. Or add something special to a conventional look that will make you stand out. 
How do you tie a saree for beginners?
If you are a beginner, you could try a ready-to-wear saree available at Koskii and other stores. If you want to learn how to tie the saree, choose an easy-to-wear cotton saree. Find the non-pallu end and tuck that into your skirt at your belly button. Moving in an anti-clockwise fashion, keep tucking in the saree securely. 
When you come to the point from where you started, stop. Put the pallu over your left shoulder and start making pleats at the end of the saree that is closest to where it is tucked in. Make around 5-7 pleats using your thumb and forefinger. Once done, tuck in the pleats securely. You can fasten them with a pin if required. Next, pull your pallu tight and decide whether you want to pleat it or leave it to flow freely. And that's it, you are done. This process will help you wear a regular saree. You will need to employ other methods of tying if you want to wear a specific style of saree.